Owning land is the American dream. And no one is more deserving of owning land than our Veterans. At Texas Grand Ranch, we go the extra mile for our Veterans. All of our property for Texas Veterans meets the TVLB finance requirements. We make owning land a very simple process.
Our tremendous success has sparked a desire to give back to the Veteran community that has embraced Texas Grand Ranch. We've partnered with two foundations working to improve the lives of our Veterans. The PTSD Foundation of America's Camp Hope, supported by Michael Berry, and Marcus Luttrell's Lone Survivor Foundation.
Over the last five years, Texas Grand Ranch, along with our sponsors and property owners, has donated over $300,000 to Veterans. We'll continue to seek opportunities to help veteran-focused initiatives that support their path forward to embrace a bright future with honor and support from their communities.
With the support of our friend Michael Berry, Camp Hope provides a safe haven for Veterans and their families. Camp Hope is a place Veterans can find help and healing while enduring the effects of post-traumatic stress.
Camp Hope provides a safe space for victims of trauma and post-traumatic stress in which to experience healing, and move from surviving to thriving. The intensive residential program at Camp Hope provides comprehensive peer support and mentoring-based healing program for combat veterans. There is no other location like it in the United States, and to date over 1,348 Veterans have graduated from the Camp Hope program.
Learn more about our ongoing partnership with Camp Hope.
"Something about this land and forest makes and breeds warriors. You may come here broken, but you won't leave broken. The longer you're here, the harder and stronger, mentally and physically, you get. Starting from the ground you walk on. Welcome home."
After surviving a harrowing Navy SEAL mission that claimed the lives of his comrades, Marcus Luttrell returned to his ranch in Texas. One the same soil that is now Texas Grand Ranch, Marcus started his journey toward healing.
Time in Afghanistan left him a victim of the invisible wounds of war. But Marcus was able to transition to post-military life. He achieved this through holistic healing in his homeland, a step beyond the standard programs offered by the government. In 2010, Marcus established the Lone Survivor Foundation.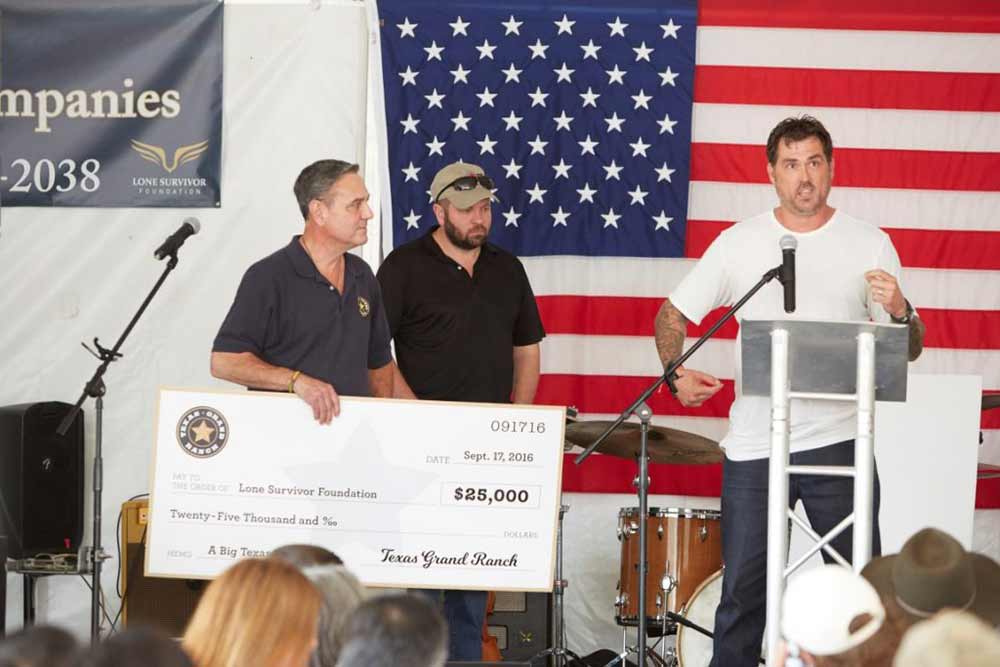 what are you waiting for?
Come See All That The Estates of Texas Grand Ranch Has to Offer
Schedule your tour to see our lots for sale in Texas today, before this unique opportunity is gone forever.